Bachelor of Film
LOOK THROUGH THE LENS TO SEE YOUR FUTURE IN FILM
Domestic Fees
Plan A – Yearly Payment – AED 56,790
Plan B – Trimester Payment – AED 20,670
Plan C – Monthly Payment – AED 7,340 (9 Payments per Year)
International Fees
Plan A – Yearly Payment – AED 56,790
Plan B – Trimester Payment – AED 20,670
Plan C – Monthly Payment – AED 7,340 (9 Payments per Year)
8 Trimesters Full Time
Complete the program across 3 years (8 trimesters)
Course Durations
8 Trimesters Full Time
Complete the program across 3 years (8 trimesters)
We understand that things can change, so you'll have the flexibility to change your study load throughout your course if you need to.
Dubai
2024 – February, Dubai

2024 – June, Dubai
Start Dates
Dubai
2024 – February, Dubai

2024 – June, Dubai
Domestic Entry Requirements
Domestic Entry Requirements
English language requirements
International English Language Testing System (IELTS): A band score of 6 or higher for a Higher Education (HE) course and 5.5 or higher for a VET course (only the Academic Test is accepted), OR
Test of English as a Foreign Language (TOEFL): A score of 550 or higher (paper based test), 60 or higher (internet based test) for a Higher Education (HE) course and a minimum score of 527 (paper based test) or 46 (internet based test) for a VET course, OR
International Entry Requirements
International Entry Requirements
English language requirements
International English Language Testing System (IELTS): A band score of 6 or higher for a Higher Education (HE) course and 5.5 or higher for a VET course (only the Academic Test is accepted), OR
Test of English as a Foreign Language (TOEFL): A score of 550 or higher (paper based test), 60 or higher (internet based test) for a Higher Education (HE) course and a minimum score of 527 (paper based test) or 46 (internet based test) for a VET course, OR
YOUR CAREER IN FILM BEGINS NOW
Learn in a collaborative environment with state of the art equipment and studios, under the expert guidance of our industry leading staff.
Learn the art of filmmaking using industry-relevant software.
SAE has a range of approaches to learning and teaching that can be activated to provide flexibility in the face of changing circumstances as required.
Train in world class studio environments
4K Red, Sony and Canon cameras, DaVinci Resolve colour grading software, Adobe Premiere Pro, and Adobe Creative Cloud.
Practical, immersive training
All work is project-based, with no exams.
Creative collaboration
Collaborate with audio specialists, artists, designers, game developers and animators.
Expand your career
Graduate with a portfolio, work experience, employability and entrepreneurial skills and a network of fellow creatives.
Film Skills
High-level cinematography
Directing
Production
Post production
Lighting
Sound
Visual effects skills
Course Structure
The Bachelor of Film is broken up into three distinct stages, each designed to develop different skills.
Develop the essential technical film skills and the knowledge required to collaborate with other creative media students and professionals.
Credit Points: 10

This unit introduces you to the fundamental principles of screen studies, including theory and history, to explore ways in which these principles are connected to screen practice. Emphasis is placed on how these concepts and approaches work within screen production, allowing you to develop analytical, critical reflection and creative thinking skills by applying your understanding of topics in project-based activities. Finally, this unit should assist you in becoming more critically aware of your craft and introduce you to ways of developing your knowledge of screen production.

Credit Points: 10

In this unit, you will be introduced to the principles of storytelling for the screen in the production of a short dramatic screenplay. Theoretical approaches to plot, structure, character, theme and genre will be explored, and applied to a range of screenplay development tools such as synopsis, treatment and character breakdowns. Through the analysis of a diverse range of mostly short films and the application of theoretical knowledge, you will develop the skills to create engaging character arcs and a satisfying story structure.

You will learn the techniques required to write effective dialogue and scene descriptions. As you draft your final screenplay, you will need to engage with industry-standard formatting and software programs. Feedback processes are essential in the development of engaging stories, and you are expected to engage with feedback from your lecturer and colleagues throughout the trimester.
Credit Points: 10

In this unit, you will be introduced to the craft of filmmaking through participation in practical film shoots. An introduction to camera, lighting and sound equipment will be supported by a study of the fundamentals of frame composition and cinematography. Key roles and responsibilities of a working film crew as well as production processes and protocols are covered, including workplace health and safety. Familiarity with the equipment and its safe assembly and use is as important in this subject as the technical and creative elements.
Credit Points: 10

This unit aims to instil a basic working knowledge of the structures, aesthetics and technologies involved in digital post-production. There is a particular emphasis on the editing process, as well as a general introduction to audio mixing, titling, colour grading and authoring processes within an industry-level non-linear editing tool.

Editing techniques and approaches vary between different mediums and this unit focuses on both documentary and drama workflows and file management protocols. Effective communication of narrative is the main focus of the unit, and you will learn to edit for narrative clarity, performance, subtext and dramatic effect. Historical and contemporary perspectives on montage theory and continuity editing theory will be explored to broaden your understanding and approach to the art of editing.

Credit points: 10
This unit will introduce you to the mindset and skillset of the creative entrepreneur, and transform your approach to problem-solving. You will analyse historical and contemporary models of leadership and best practice in entrepreneurship, and use tools for project design that include ideation, problem framing, and pitching. The skills in this unit will assist you in developing your creative thinking, exploration, and experimentation methods, allowing you to experiment with project design and content for creative media.
Credit Points: 10

This unit aims to instil a working knowledge of the structures, aesthetics and technologies involved in digital post-production visuals and title design. There is a particular emphasis on compositing and manipulating the visual content within the frame, and the implementation of titles to footage. Influential cinematic, art and graphic styles, movements and techniques are analysed to give you a foundation in post-production visual aesthetics. The unit also deals with workflow, project management and interpersonal skills needed to export footage for a variety of delivery mediums and collaborating with creative clients.
Credit Points: 20

This unit will give you the opportunity to develop a project from early ideation through to an industry-standard screen production. The purpose of this unit is to introduce you to procedures and protocols of screen production as well as further developing your skills in cinematography, lighting and sound. You will also be introduced to the pathway a screen production takes through the post-production stage to final delivery. A key outcome of this unit will be a screen production initiated and developed over the course of the unit.
Broaden your scope to work on complex multidisciplinary projects in accordance with industry-standard practices.
Credit Points: 10

In CIM210 you will be working on interdisciplinary projects that relate to some of the most important concepts in contemporary media production. You will learn practical and analytical skills in order to help you develop your creative powers and meet briefs that take you out of your comfort zone. You will need to bring all of the skills you have learned so far: technical skills, research skills, communication skills and a growth mindset, and be prepared to encounter new concepts and new ways of working.
Credit Points: 30

Film Studio 2 acts as an introduction to a "real-world" environment that will allow you to experience the industry-standard production process in an accelerated capacity. This 30 credit point module will allow you to dedicate more time and energy to understanding and developing an individual and collaborative process. Your focus will be directed toward creating a fictionalised, scripted product that may comprise: short films, television commercials, web series, etc., whilst working in a collaborative and inclusive film crew.

In this unit, you will be assigned to a project team, which is led by a facilitator. In collaboration with your peers, you will work towards developing a number of projects within a simulated studio environment. During this process, your facilitator will act as your project manager, producer, mentor and colleague.

Credit Points: 10

Media and culture are not simply entertainment, but something that affects the "real world", our everyday lives, and our worldviews. As such, we will not ask whether media accurately reflect the real world but instead ask how media shape, reinforce, and challenge power structures that influence our understanding of the world and ourselves. This unit takes a 'critical theory' approach to analyze media and culture. In this unit, you will explore media texts, contexts and meaning, society and subjectivity, pop culture aesthetics, and critical cultural discourses that inform creative media practices.

Drawing on a range of creative content and analytical frameworks, you will be encouraged to develop ways of thinking about media and culture that demonstrate a broad awareness of aesthetic principles and stylistic trends; subjectivity, agency, ethics, and relations of power; contexts, disciplines and discursive formations. In support of this exploration, you will produce a range of media artifacts that explore and contextualize the relationship of media to culture through individual analysis, collaborative and interdisciplinary creative practice, and critical reflection.


Credit Points: 30

FLM213 introduces you to the world of documentary filmmaking. This unit has the same delivery structure as Film Studio 2, but the focus shifts from narrative fiction to documentary. You will need to draw on all the storytelling and technical skills you have learned to date, while being introduced to new concepts and practices that are applicable to the documentary genre. During the delivery of this unit, your facilitator will oversee a number of theory sessions and practical workshops that will increase your knowledge and practical skill base. Then, solo or in collaboration with your peers, you will develop and deliver a documentary project.
Execute a project of your own design which is of a high quality and externally published, with the knowledge to commercialise if you choose. You'll also apply your skills through industry work placement.
Credit Points: 20

This is the first unit in a two-part process of developing a collaborative project, designed to meet professional publication standards. In a group, you'll design and execute a full-scale creative project which will be designed to a specific target audience and market of your team's choosing.

Working closely with SAE Project Supervisors, your project will be guided through formal pre-production and production processes to deliver a creative media project. If you are undertaking a specialisation in your course, you will be required to align it with this capstone project as part of the approval process.

This unit is designed to support the pre-production process, long term success of the project and the fair and equitable contribution of group members. You'll present to the panel your forward plan for the project, which demonstrates rigourous pre-production processes to mitigate risk to ensure the project can be delivered on time and to specification.

Once you successfully complete this unit the emphasis of the capstone project development will move away from pre-production into full production mode.
Credit Points: 20

In this studio you continue to consolidate and advance a broad range of filmmaking skills in the production of sophisticated and authentic screen works for multi-platform delivery. You will engage with advanced producing concepts such as financing, budgeting, marketing, and distribution, and broaden your understanding of a range of production environments, technologies, processes and protocols. Higher-level production management and budgeting skills are introduced, and you must demonstrate your ability to respond creatively and pragmatically to a production brief, engaging in sophisticated feedback processes and collaboration between your production team and clients.

This unit further advances real-world skills, there is an opportunity to introduce the notion of real audiences, real clients, and the development of a professional industry profile. You will be expected to bring high-level creative and technical skills to the production of a range of authentic client-driven productions with a focus on multi-platform content creation.

Credit Points: 20

Using the project plan and pre-production work that you completed in the Major Project Development Unit, you'll adopt a quality framework that will lead to the publication of a final creative piece.

This quality process will be accountable to multiple, external stakeholders and will test your ability to problem solve, evaluate and synthesise information to the standard that we expect from all SAE graduates. Throughout this journey, you will interact with your classmates and other key stakeholders using the processes and systems and that you would have developed throughout your course.

The publication and subsequent success of the final deliverable will represent the broadening and deepening of your professional practice which has occurred during your journey.

Credit Points: 10

Gain an introduction to the principles of entrepreneurship to create and operate your own creative media small business venture. Through analysing the global media landscape, You'll be able to identify and explore start-up opportunities within the creative industries.

This unit is designed to be done in parallel with your capstone project. You'll apply the skills and knowledge from this unit to formulate a rigorous business case to help you commercialise your capstone project and use it as a basis for a creative media start-up.
Credit Points: 10

Future jobs will require workers to learn on the job; focus on relationships with people; have strong communication skills; use a range of transferable skills. Research consistently points to the benefits of students being prepared with documents that are required for job applications, such as a Resume, Cover Letter, and E-portfolio.

In addition, the value of a Work Placement which provides you with professional experience and an opportunity to use skills and knowledge gained from study to complement this.

The Work Placement for SAE Bachelor students requires a minimum of 80 hours at one or more host organisation. Both the student and the host are required to complete an SAE Agreement which formalises the placement.
PRODUCTION: FF7F4
062747K (8 TRIMESTERS)
Australian Qualifications Framework
AQF Level: 7
FULLY ACCREDITED BY TEQSA
We consult closely with industry professionals so you can expect a course that's highly relevant and equips you with sought after skills.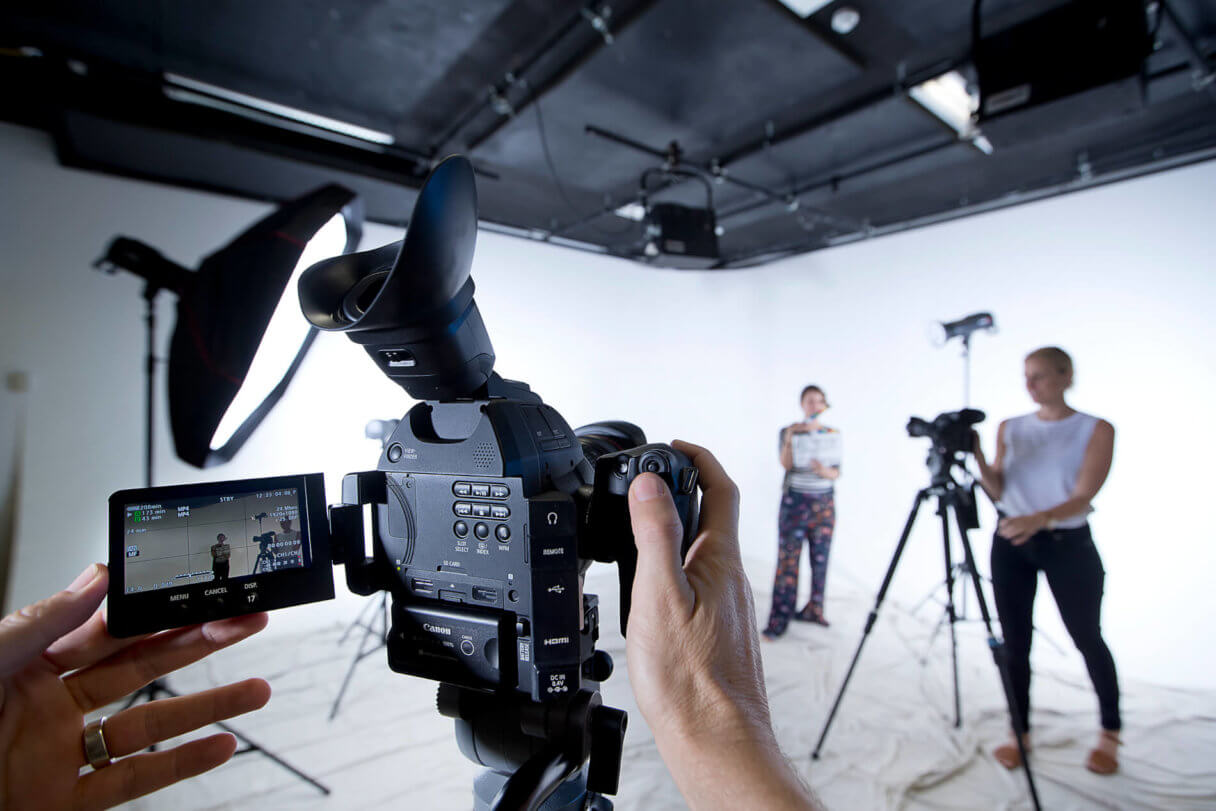 Career Outcomes
What jobs will this course lead to?
Video Editor

Producer

Cinematographer

Colourist

Director

Screenwriter

Visual Effects Artist

Camera Assistant
YOUR DREAM CAREER BEGINS NOW

With our industry connections, specialised teachers and personalised education in world-class facilities, you can unleash your creative future with confidence.